Counteract Tire and Wheel Products
Now available through your Counteract Dealer
Counteract 22m Thread Pitch Gauge

TPG22




The Counteract Thread Pitch Gauge TPG22 is designed to test the thread pitch of a M22 wheel stud. Counteract's pitch gauge will notify the technician of any stud stretching or irregularities which could result in a serious safety situation or wheel-off condition.
Over-torquing can result in a "stretched stud". A stretched stud can fail and snap off, resulting in a potentially serious safety issue.  With the Counteract Thread Pitch Gauge you can quickly measure the stud to make sure it's not stretching. A stretched stud should be replaced immediately.
Counteract Injection Pump

CBB-IP



The Injection Pump Method is suited for any size application. It requires the Counteract Injection Pump, part# CBB-IP and an airline. This is the quickest method and doesn't require the tire to be dismounted. Learn more
Counteract Motorcycle/ATV Tire Pressure Gauge (5-50psi)  MKPG-D


Motorcycle Tire Pressure Gauge  is one of a kind! It presents a 90-degree head that is perfect for those difficult to reach valve stems on your motorcycle. Getting in behind your brake disc and sprocket to check your pressure is no longer a challenge. The complete metal constructed gauge is high quality and durable, able to withstand daily use and be brought on the road with you for easy tire pressure monitoring. With pressure readings from 5-50psi (50-300kPa) you can inure that you are covered. Each gauge is packaged and sold individually.
90 degree head for those difficult to access valve stems.

High quality all metal construction.

5-50psi (50-300kPa) readout.

Made by Counteract Balancing Beads.

Packaged individually. Custom red head with black anodized body with Counteract engraving.
Counteract Protective Mechanics Gloves – Anti Impact, Anti Cut
Counteract's Mechanic Shop Gloves are a must for anyone working in the garage, on equipment or handling heavy objects! They are anti-impact gloves presenting protection for all fingers, knuckles and all areas of the hand including the palm! the gloves also present anti-cut technology which will aid in the protection of cuts and sharp objects penetrating the glove itself.
Reinforced double layer synthetic leather

Graple index crotch

Cut resistant Level 5

TPR impact fingers, thumb & knuckle

Suitable for Mechanics, Oil & Gas, Automobiles, Rigging, Extracting & Refining
The Counteract Air Powered Bead Vacuum
The Counteract Bead Air Line vacuum allows you to quickly vacuum beads out of a tire, avoiding messy spills. The beads are stored in a clean cloth bag and can be reused, or recycled. The included multitask attachments allow the vacuum be used for many different applications.
Counteract Nut Track CNT-22

The Counteract Nut Track holds 10 22mm wheel nuts in place to enable quick, safe and efficient cleaning.  Mount on a table or wall, or even on a service vehicle.
Counteract Wheel Weight Remover Tool WWR

The Counteract Wheel Weight Remover tool allows you to quickly pry off stick on wheel weights. GOOD RIDDANCE!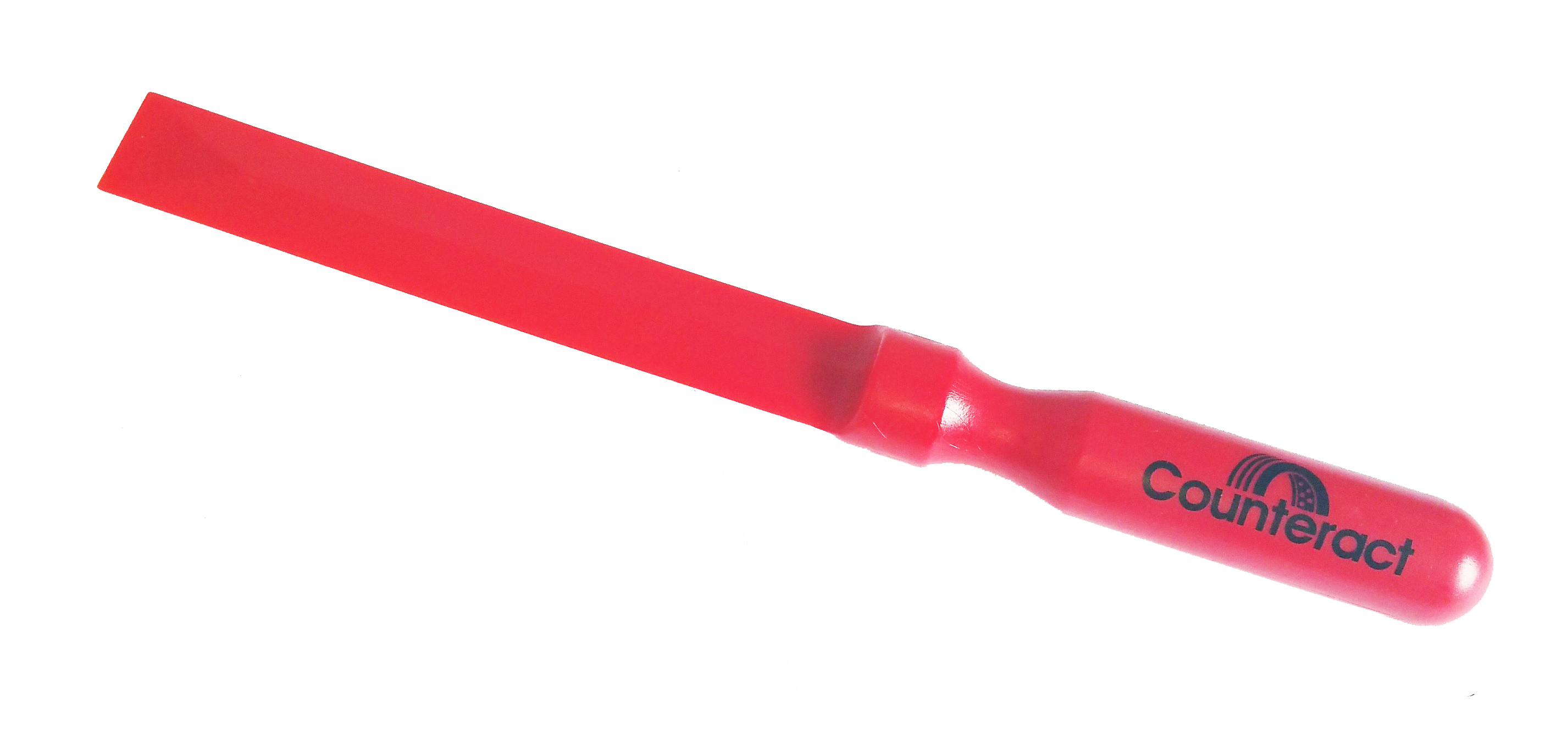 Counteract Valve Core Remover/Screwdriver VCR

The Counteract Valve Core Remover/Screwdriver is a perfect compliment to your other Counteract Products.  One side is a handy valve core remover. The other is a flat head screwdriver that conveniently can also be used to remove the set screws on your Counteract Stud Cleaning Tool.