Wheel offs occur when the wheel becomes dislodged involuntarily from a vehicle in motion. This creates a potentially fatal hazard as the wheel becomes a free rolling instrument on a road or highway. The tire can keep its momentum for a prolonged period until it either hits something or comes to a stop. The real threat is when the tire rolls over a median into oncoming traffic.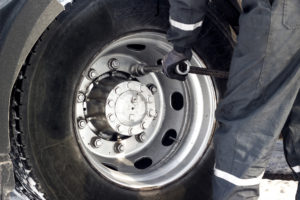 These wheel offs can be avoided at the source, during the mounting process. When a wheel comes off it is usually due to improper inspection or improper mounting. The first step is to ensure that the wheel and hub are free of rust and debris before mounting them together. This would include all mating surfaces such as studs, hub, nuts, wheel etc. This step is important because although you can measure torque, it is clamping force that is needed to hold the wheel to the hub effectively. With rust or debris, the clamping force is compromised increasing the chance of a wheel off. The second step is to inspect the wheel-end for failures such as stretched studs, cracked nuts, and damaged or cracked wheels. The final step is torquing the nuts to spec in a star pattern. This star pattern ensures the wheel is snug and there is no misreading of torque. 
Counteract has designed numerous tools and kits to ensure that this procedure is done properly and in a timely fashion. All items can be found on our website https://counteractbalancing.com/products/stud-brush/ or give us a call at 1-800-872-8952.